Are you considering getting rid of your money guzzling grass yard? Desert Landscape Conversions will put money back in your pocket! You could save hundreds of thousands of dollars by switching to water smart desert landscaping.
It is no secret that SNWA water rates are among the highest in the country. In response, many Las Vegas residents will make attempts to preserve water consumption and that includes installation of desert landscape.
Our team of expert landscapers has the experience and knowledge necessary to create a lush and vibrant outdoor environment that will not only enhance the aesthetic appeal of your property but also help conserve water and reduce your water bill.
WHY SWITCH TO DESERT FRIENDLY LANDSCAPE?
SNWA Pays You
For every foot of grass that is removed and replaced with desert landscape, the Southern Nevada Water Association (SNWA) is offering a $2 rebate for up to 5,000 square ft. They will also be offering a $1 rebate for any additional land with the maximum award being $300,000.
Save Water
A water smart, desert friendly, landscaping using less grass and more plants can help save 50 percent of water. In addition, maintaining your dessert landscape has little to no maintenance. Saving you hundreds of dollars each year.
Go Green!
You can save an average of 55 Gallons of water per year.
Want to save some of your grass?
You're are still eligible for the rebate. The rebate is used to reduce the amount of grass you have, not get rid of it entirely.
HOA Approved
Most HOA's works with SNWA to provide a beautiful landscape that is water conservative.
Low-maintenance
Our sustainable landscape designs require minimal upkeep and provide year-round beauty and functionality.
Customizable Designs
Our team will work closely with you to create a custom landscape design that meets your specific needs and preferences.
CERTIFIED SNWA WATER SMART CONTRACTOR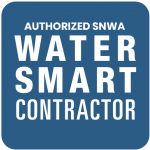 All our Landscape Experts are SNWA certified and trained on water efficiency and can help you get the most out of your money. Our long list of previous desert landscape conversions give us a good indication of what you could be saving. We are also determined to show you that desert landscaping does not have to be boring or particular. Here only a few examples of the five hundred different plants and materials you are able to use to make your land beautiful and water efficient:
APPROVED PLANTS FOR SNWA REBATE
Canna Indica 'Phaison'
New Zealand Flax
Dahlia
Contact ChicagoLandscape of Las Vegas Today to Setup a Free SNWA Water Smart Conversion Consultation
At ChicagoLandscape of Las Vegas, we are committed to providing our clients with exceptional service and stunning results. Contact us today to schedule your consultation and begin your journey towards a Water Smart desert landscape conversion!
Here are some reasons why ChicagoLandscape of Las Vegas is the best choice for Desert Friendly Landscape Installation in Las Vegas:
Schedule

A Free Consultation