Las Vegas landscaping company Chicago Landscape has been providing consistent superior landscape consulting, design, construction, and maintenance services, to residential, and commercial clients throughout the Las Vegas valley since 2012.
We specialize in custom residential landscape design and installation. Chicago Landscape of Las Vegas provides fully integrated site analysis and conceptual planning, construction drawing and permitting, project management and construction supervision, complete landscape and hardscape installation and weekly maintenance. As an expert Las Vegas landscaping designer and licensed landscape contractor in Nevada, we have the ability to lead your landscape project of any size and scope, and the coordination of all aspects from design to installation.
EXCEPTIONAL

LANDSCAPE SERVICES WE OFFER
We Offer Expert Landscape Design, Flawless Landscape Installation & Impeccable Landscape Maintenance
We Offer Competitive Pricing On All Landscaping Services
Whether you need a new custom outdoor desert oasis, trees trimmed, irrigation servicing, backyard clean ups, or a complete redesign of your entire backyard living space with desert landscape, we will work with you and provide a great price and quality service.
Sealing of Hardscape & Epoxy Flooring
Grading & Drainage
Each month we offer a number of landscaping specials and discounts for those in the Las Vegas valley, including those for popular seasonal services.
About

Chicago Landscape of Las Vegas
We provide a variety of landscaping services including lighting, staining, waterfalls, fountains and rock design. Chicago Landscape of Las Vegas is a full service landscape company which has been providing consistent superior landscape consulting, design, construction, and maintenance services, to residential, and commercial clients throughout Las Vegas since 2012. We provide a wide range of services including everything from small landscape renovations to the complete design and installation of larger Las Vegas residential or commercial landscape projects. We also specializes in custom landscape design, water features, spas, concrete and masonry work.
Schedule

A Free Consultation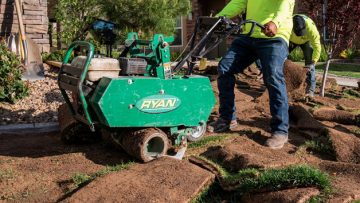 Nevada has implemented a new law that requires property owners to remove non-functional turf to conserve water. With…
Read Post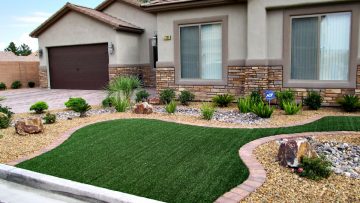 The Southern Nevada Water Authorities Water Smart Landscape program has now helped save billions of gallons of water!…
Read Post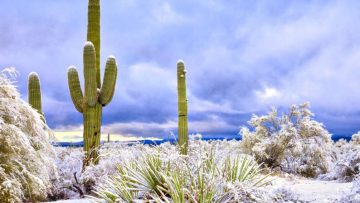 Although winters in the Las Vegas valley can be mild by most standards, winter can still wreak havoc on lawns, plants…
Read Post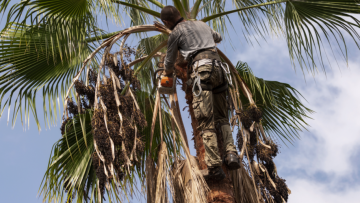 As we transition from summer in to fall here are 3 tree tips you can practice to keep your trees looking their best…
Read Post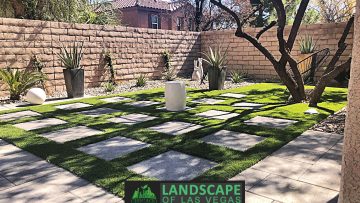 Another beautiful landscape redesign project completed in Las Vegas! Features include: – Contemporary design–…
Read Post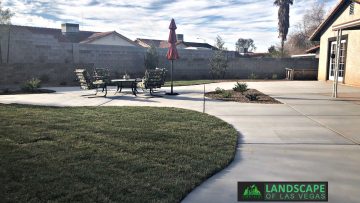 Another beautiful backyard desert landscape redesign completed in Las Vegas! Features: Fire Pit Pavers Sierra Blend…
Read Post
Client

Testimonials
Cameron and his team from Chicago Landscape Las Vegas redesigned and converted our backyard to a desert oasis! We were very impressed with professionalism and quality of workmanship that they provided at such a reasonable cost. Our backyard is now the envy of both our friends & family. It also doesn't hurt that our water bill is now 20% cheaper each month. Thanks again Cameron!
Chicago Landscape of Las Vegas is the Best, Efficient, effective , kind , courteous and reasonable if looking for that type of service , look NO further.
Barbara Roland
Las Vegas, NV
Excellent service, communication, and professionalism...
Jessi Perkins
Las Vegas, NV
Excellent. First trying to find a landscape company that actually shows up to give you a quote in Las Vegas is impossible - let alone that will do the entire job you want in the time-frame you need is like asking to move mountains and continents. Cameron showed up on time, gave a quote for exactly what I was looking for, and 2 weeks later, I had a "new" front yard. Almost 4years of neglect from renters ruined my front yard (we won't talk about the back yard yet). Cue looking for someone quality and reliable then for about a year... Gustavo and his crew were right on time and finished (IMO) in about 5hrs or less. It looks amazing! Now to tackle the back yard...
Cindi Patterson
Henderson, NV
My company owns several rental properties and we have used Chicago Landscape of Las Vegas on numerous jobs. Each and every time their work is outstanding, they arrive on time, complete the job on time and clean up after themselves with no supervision. Competitive pricing, professional service and their hardworking staff is courteous; a 1st class organization.
Cameron was great to work with. His crew did an update to my tired landscaping. Everything was completed on time and they picked up after themselves when they were done. I loved the way Cameron's vision turned out without breaking the bank.
Cindy Wright
Las Vegas, NV
We had our backyard completely redone in June, and Chicago Landscape did an amazing job. Our backyard was completely transformed. We initially met with Cameron who listened to our ideas and then took them and created a space that we could not have imagined. He even kept our future desires in mind in the design, so we will be able to add to the space in the years to come. The finished product is something we enjoy every day. It is my experience that Chicago Landscape will go out of their way to treat you well, honor your wishes and deliver the best product possible. I can't recommend them enough!
Karen Barney
Hnederson, NV
Cameron and his crew are amazing. Cameron has exceptional customer service and his guys are friendly and professional. I would recommend his work to anyone who is looking for a great Landscape company!
Kelly Camacho
Las Vegas, NV
Chicago Landscape of Las Vegas is wonderful. They are our monthly maintenance crew and have completed several landscape projects for us. Cameron Lodge is great to work with, he is accessible and flexible. Communication is terrific and we always know when they will be here and what they are doing.We have recommended the company to all of our friends. The crew is friendly and they work hard.
Tiffany Parks
Las Vegas, NV