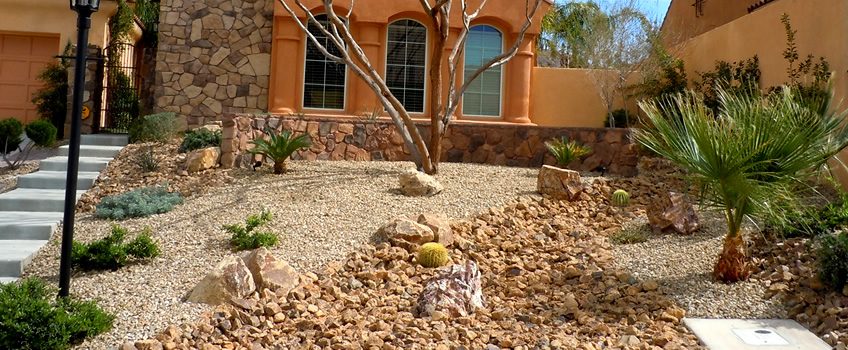 We deliver and install Landscape rock! Whether you want to replace your grass yard with Landscaping Rock or freshen up the existing rock, ChicagoLandscape of Las Vegas is the one to call. ChicagoLandscape of Las Vegas can supply and install a wide range of quality landscape rock and gravel in the Las Vegas valley area at competitive prices.
We offer complete Landscape Rock Installation Services including:                                                                  

We Provide on-time delivery of landscape rocks & materials in a safe and efficient manner
We expertly install landscape rock distributing the materials to the customer's specifications and satisfaction
Installation is worry free and completed with minimal disturbance to property access
Benefits of Landscape Rock installed by ChicagoLandscape of Las Vegas:

Landscape Rock provides low maintenance after installation
Landscape Rock will lower monthly water bill with no water use (perfect for arid climate or water restricted areas)
Landscape Rock is beautiful desert landscape alternative without the high price tags that come with concrete, asphalt or sod
Varieties of Desert Landscape Rock we Supply & Install:
When it comes to landscape rock installation in the Las Vegas area, there's no better landscape rock installer than ChicagoLandscape of Las Vegas.  We are known throughout the community as one of the most reliable, affordable and knowledgeable Las Vegas landscaping rock installation companies available and ChicagoLandscape of Las Vegas boasts an experienced, professional team that delivers the quality service that you can count on —  Whether you're beautifying your desert yard or renovating a desert backyard space, our professional landscape rock installation can make all the difference in achieving quality results.
Let ChicagoLandscape of Las Vegas show you why we've earned the reputation as one of the best desert landscape installers in the Las Vegas & Henderson Nevada areas.  With our outstanding customer service and our unparalleled professional desert rock installations, we offer many benefits that make us the high-quality Las Vegas landscaping company you can trust with all of your rock landscaping needs.
Get a Free Las Vegas Landscape Rock Installation Consultation Today!
Beginning with your initial landscape consultation, a trained landscape architect is assigned to your project and is completely devoted to making your experience with ChicagoLandscape of Las Vegas positive and pleasing. As professional Las Vegas desert landscape rock designers, we thrive on solid communication, seamless project management and strive for 100% customer satisfaction.
We will tour your property along side of you and you will have an opportunity to share your landscape wants and needs while we offer our professional expertise. We'll cover topics from grading and drainage to patios and decks to all levels of planting and outdoor construction. The time is yours to help us gather the information needed to meet your landscape desires.
Our Desert Landscape Rock Installation Consultation will include:
Initial review of Client Questionnaire from website submission or phone interview
Detailed on site assessment, evaluation, data collection & photos
Establish reasonable budget/allowances for potential project
Procure design agreement contract – (Fees vary based on project scope, site difficulties and timelines)
It is our consultative process that will create the ideas for our expert landscape rock design process.