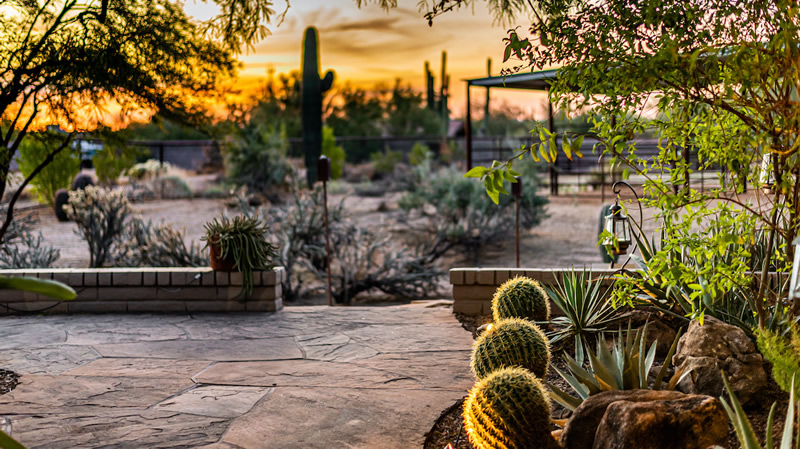 Maintaining a beautiful and well-manicured landscape in the Las Vegas Valley requires expertise, time, and effort. However, hiring a professional landscaping company can alleviate the stress and ensure your outdoor space thrives in the desert climate. With numerous options available, it's important to carefully evaluate landscaping companies before making a decision. In this blog post, we will discuss the essential qualities to look for when selecting the best landscaping company for your needs in the Las Vegas Valley.
Experience and Expertise:
When choosing a landscaping company, prioritize their experience and expertise in the industry. Look for companies that have been operating in the Las Vegas Valley for several years, as they would possess valuable knowledge about local plants, soil conditions, and irrigation requirements. An experienced company will understand the unique challenges posed by the desert climate and offer tailored solutions for your landscape.


Range of Services:
Consider the range of services provided by the landscaping company. A comprehensive service offering is beneficial, as it allows you to consolidate your landscaping needs with a single provider. Look for companies that offer services such as landscape design, installation, maintenance, irrigation systems, tree care, and hardscaping. This ensures that all aspects of your landscape can be efficiently managed by the same team.


Portfolio and References:
Review the landscaping company's portfolio and ask for references from their past clients. A reputable company will proudly showcase their previous work, enabling you to assess the quality of their designs and installations. Additionally, reaching out to references provides valuable insights into their professionalism, reliability, and customer satisfaction. Feedback from previous clients will help you gauge the company's ability to meet your expectations.


Credentials and Certifications:
Verify the credentials and certifications of the landscaping company you are considering. Look for affiliations with professional associations such as the Nevada Landscape Association or the Landscape Industry Certified program. These affiliations demonstrate a commitment to industry standards and ongoing professional development. Moreover, certifications like water-efficient landscaping or sustainable practices indicate a company's dedication to environmentally responsible techniques.


Communication and Customer Service:
Effective communication and excellent customer service are vital qualities to seek in a landscaping company. A reputable company will listen to your needs, provide prompt responses to your queries, and keep you informed throughout the process. Clear communication ensures that your vision is understood and implemented accurately. Additionally, a company that values customer service will prioritize your satisfaction and address any concerns promptly.


Sustainable Practices:
Given the water scarcity in the Las Vegas Valley, it is crucial to select a landscaping company that promotes sustainable practices. Inquire about their water-efficient irrigation systems, use of native and drought-tolerant plants, and commitment to minimizing waste and environmental impact. A responsible landscaping company will prioritize conservation and provide recommendations for creating an eco-friendly landscape.


Insurance and Licensing:
Ensure that the landscaping company you choose is properly licensed and insured. Licensing ensures that the company meets the necessary legal requirements, while insurance protects you from liability in case of accidents or property damage during the landscaping process. Request proof of insurance and licensing to guarantee that you are working with a legitimate and responsible company.
Selecting the right landscaping company for your Las Vegas Valley property is a significant decision that can greatly impact the beauty and functionality of your outdoor space. By considering factors such as experience, services, portfolio, credentials, communication, sustainability practices, and insurance, you can make an informed choice. Remember that a reputable landscaping company will have the necessary expertise, a diverse range of services, and a portfolio that showcases their skills. They should prioritize open communication, provide excellent customer service, and have a commitment to sustainable practices in the desert environment.
Take the time to research and compare multiple landscaping companies, seeking recommendations and references from trusted sources. By doing so, you can ensure that the company you select aligns with your vision and goals for your landscape.
Remember, a well-maintained and thoughtfully designed landscape can enhance the aesthetic appeal of your property, increase its value, and create a welcoming outdoor environment for you and your family to enjoy. By selecting the best landscaping company in the Las Vegas Valley, you can embark on a successful partnership that will transform your outdoor space into a thriving oasis in the desert.
---

Las Vegas landscaping company ChicagoLandscape has been providing consistent superior landscape consulting, design, construction, and maintenance services, to residential, and commercial clients throughout the Las Vegas valley since 2012.
We specialize in custom residential landscape design and installation. ChicagoLandscape of Las Vegas provides fully integrated site analysis and conceptual planning, construction drawing and permitting, project management and construction supervision, complete landscape and hardscape installation and weekly maintenance. As an expert Las Vegas landscaping designer and licensed landscape contractor in Nevada, we have the ability to lead your landscape project of any size and scope, and the coordination of all aspects from design to installation.
Do you need help with designing the perfect desert landscape? We offer Free Landscape Consultations!
Schedule

A Free Consultation