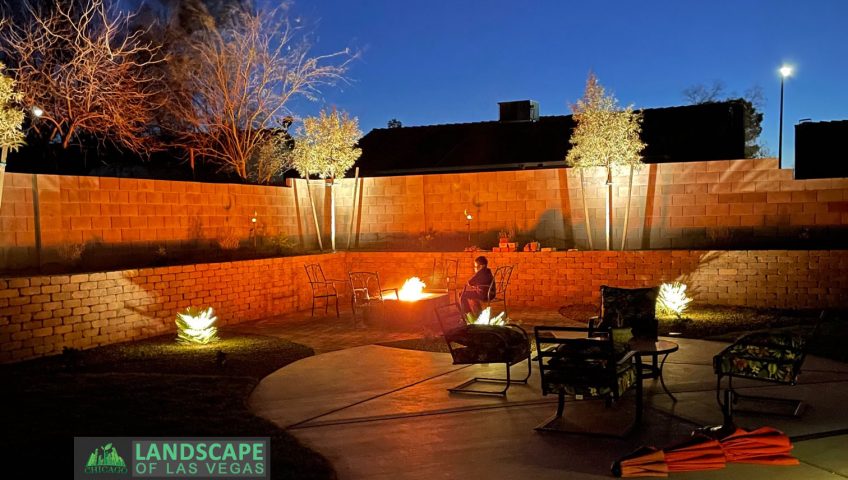 At ChicagoLandscape of Las Vegas we are experts in building custom backyard Fire Pits for those cool desert Las Vegas nights. Although Las Vegas is know for it's brutal heat in the summer, there are also many mild nights for which there is ample opportunity to enjoy a fire feature such as a fire pit. Many home owners will also agree that fire pits are one of their most favored features that was added to their backyard landscape. Not only is a fire pit visually appealing, it is also very functional and fun for the whole family to enjoy.
Each fire pit designed and installed by ChicagoLandscape of Las Vegas is unique and custom designed to integrate seamlessly with all of the other features in your outdoor living space. Our fire pit designs require the coordination of several key elements – masonry, gas and plumbing, and stonework. The reality is that a fire pit or fireplace is not a simple construction project even though some landscape contractors claim it to be. Ina addition to a lot of skill required to properly design and construct a fire pit, there is also the issue of licensing. Only a licensed general contractor can legally install the plumbing and necessary gas lines or propane needed for the feature to function. This is a fact that most  landscape contractors like those you will find on Craigslist won't tell you because they are operating illegally without the proper licenses. However, ChicagoLandscape holds multiple general contractors licenses and is also insured and bonded. When you hire ChicagoLandscape of Las Vegas to build your fire pit or outdoor fire feature you can rest assure that the work is being performed by skilled tradesmen who have years of experience and the licensing required to complete the project safely and legally.
Contact ChicagoLandscape of Las Vegas today for a free, at home, consultation today!