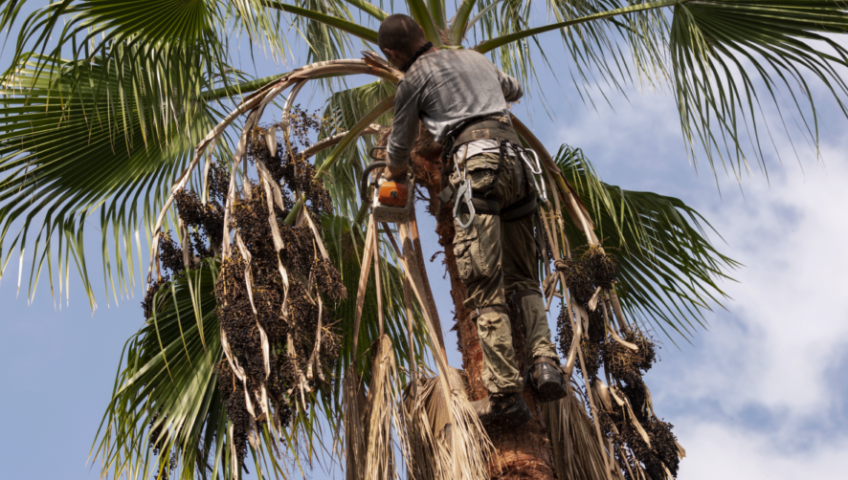 As we transition from summer in to fall here are 3 tree tips you can practice to keep your trees looking their best all year long:
Prune your Trees to Prevent Damage
Pruning trees is often best done in the late fall to early winter in Las Vegas which is the trees dormant season. By removing as many damaged branches from your trees as you can find. The removal of these branches will help them recover from stress they may have endured during the hot summer season. Pruning a tree can have many other benefits too. The first and most important is safety. Removing dangerous limbs keeps them from falling on your home, your neighbors home, and even people. Beware that However, pruning trees yourself can also be very dangerous. To ensure your own personal safety, and the safety of your property, we highly recommend that you let a licensed and insured professional do the tree pruning for you.
Trim your Trees to Promote New Growth
Trimming your trees in the late fall encourages the growth and structure of the tree. With proper pruning, a tree can be forced to grow into a specific configurations of limbs and branches which may better the structural integrity of the tree. Further, by maintaining the tree's structural integrity, you will help decrease the damage that broken limbs and falling branches may cause. if your tree is properly pruned, it will not have compromising branch structures. A properly trimmed tree should also not have improper weight distribution which can lead to disaster later on in the tree's life. Let's not also forget that tree trimming also helps to greatly improve the general look of the tree.
Boost the Health of Your Tree with Fertilizer
After a long growing season, your trees start to wind down their activity in fall. Fertilizing your trees in fall will help them build up their energy which is stored to carry them through winter .It is during the early winter in Las vegas that you get your last and best chance to fertilize your trees with a hearty, growth-promoting fertilizer. Although, you won't see any growth above ground during winter, your trees roots never stop growing. By providing your trees with the helping hand of a rich fertilizer you allow your trees to get the most out of the nutrients in the soil as they focus on root growth in the spring. It is extremely important that you only use fertilizers that do not contain nutrients that stimulate leaf growth in the fall. For this reason we recommend that your consult with your landscaper or local area nursery supply store staff to determine which fertilizers are best for your tree for the fall/winter season.
Get a Free Landscape Maintenance Consultation
Do you need help with the maintenance of your trees or properties landscape this fall or any other time during the year? The expert landscape team at Chicago Landscape of Las Vegas has been helping residents in the Las Vegas valley for over 20 years. We are licensed, insured, and committed to provide you with the best service humanly possible. Before you hire anyone else, we ask you to please contact us for a free consultation for any of your landscape projects, big or small!