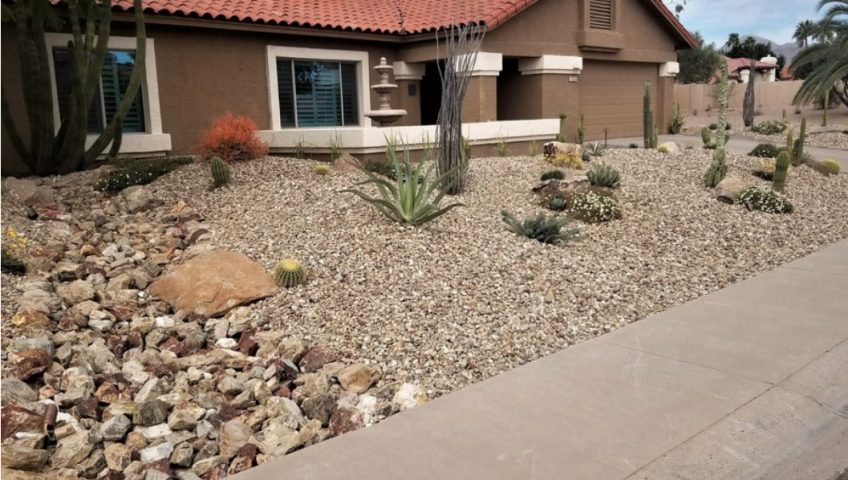 Our Expertise in Desert Landscape Conversion
Let Us Transform Your Landscape
Las Vegas Landscapers, ChicagoLandscape, are the experts when it comes to transforming your landscape. We specialize in desert landscape conversion, transforming your outdoor space into something unique and beautiful. Our experienced team of professional landscapers will work with you to design and create the perfect landscape that meets all of your needs. We will bring your vision to life and help you create an outdoor space that you will love.
Experience the ChicagoLandscape Difference
With years of experience in the field and a commitment to excellence, ChicagoLandscape of Las Vegas is your partner in transforming your outdoor space into a captivating haven. Our Las Vegas landscapers combine their passion for design with their knowledge of the local environment to create landscapes that are both stunning and sustainable. Contact us today to embark on a journey of landscape transformation that will enhance your property's beauty and value.
Why Choose ChicagoLandscape of Las Vegas?
Professional and Experienced Team

Our team of professional and experienced Las Vegas landscapers are dedicated to providing the best service possible. We understand the unique challenges that come with desert landscape conversion and will work with you to ensure that the job is done right. Our knowledgeable team will take the time to listen to your ideas and provide advice on the best approach for your landscape transformation.

High Quality Materials

We only use the highest quality materials for our desert landscape conversions. Our team utilizes the latest in landscaping technology and advanced materials to ensure that each project is done right and that it will last for years to come. We understand the importance of quality materials and will work with you to ensure that you get the best results possible.

Expertise

Our team comprises highly-trained professionals who understand the unique challenges and opportunities of landscaping in the desert environment of Las Vegas. We know which plants thrive in the arid climate and how to create a sustainable and visually stunning landscape.

Customization

At ChicagoLandscape, we understand that every client has distinct preferences and needs. Our landscapers work closely with you to design a landscape that reflects your personality, complements your architecture, and meets your outdoor living requirements.

Creative Design

We take pride in our creative design solutions that fuse the beauty of nature with innovative landscaping concepts. Our designs encompass a harmonious blend of vibrant flora, soothing water features, stylish hardscapes, and strategically placed lighting.

Sustainability

Creating a sustainable landscape is crucial in a desert environment. Our experts are adept at using native plants, efficient irrigation systems, and environmentally conscious practices that conserve water and minimize maintenance efforts.

Functionality

A great landscape is not only visually appealing but also functional. Whether you desire a serene retreat, a space for entertainment, or a play area for kids, our landscapers can integrate these elements seamlessly into your design.

Attention to Detail

It's the small details that make a big difference. Our landscapers pay meticulous attention to every aspect of your landscape, ensuring that the placement of each element aligns with the overall design and functionality.
Contact ChicagoLandscape Las Vegas Today for a Free Estimate
Are you looking to elevate the aesthetic appeal and functionality of your outdoor space in Las Vegas? Look no further than ChicagoLandscape of Las Vegas – your ultimate partner in crafting breathtaking landscapes that embody the essence of the desert oasis. With our team of experienced and skilled landscapers, we bring a touch of creativity, innovation, and expertise to every project, turning your vision into reality.
Contact a ChicagoLandscape of Las Vegas to help you identify the best materials for your landscape conversion project.
Schedule

A Free Consultation